On Saturday 8th May, Fran, Veronica, Beni and Mandy, on behalf of LUKES Entertainment Group, provided entertainment for the Cheltenham/Dingley VIEW CLUB Luncheon.
VIEW members support the education of disadvantaged Australian children by raising much needed funds for The Smith Family. Through fundraising activities and social events in local communities, members raise money that goes directly to The Smith Family's learning and mentoring programs for disadvantaged students.

The ladies at the luncheon enjoyed listening to the performance which included some old favourites and a couple of new songs as well.There was much toe tapping and singing along, and quite a few questions about the Lukes Club and playing ukulele in general. A lovely afternoon, enjoyed by all.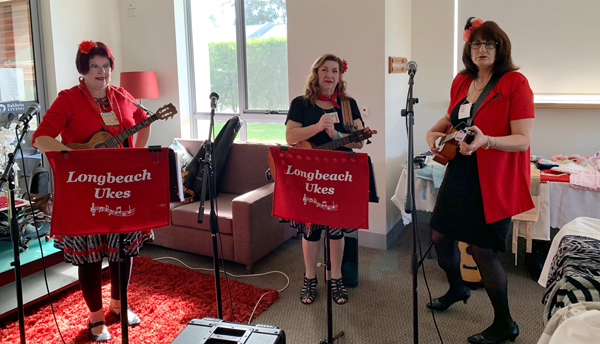 The Ladies: Beni McMaster, Mandy Cooper, Fran Paddington and Veronica Young looked resplendent in their red and black and were well received by the guests at the luncheon with their lively perfomance.