Description: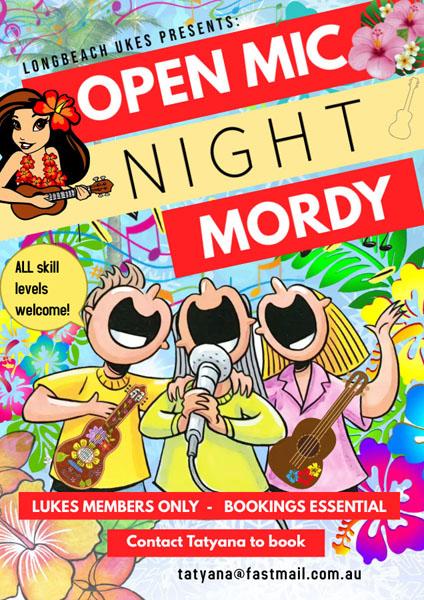 Come one come all!
OPEN MIC (previously TOOM) night is back!
Tuesday 24th May, 2022
6pm
(for dinner and then the 'show' around 7.30)
at
Mordialloc Sporting Club (Mordy HQ)
528 Main St, Mordialloc
(at the top of the hill, not to be confused with the Sporting Globe half way down)
in
Jack's Bistro
(downstairs)
We're looking for acts to perform on the night.
Find some LUKES friends, work on a song and share your skills with your other friends at LUKES.
DON'T BE AFRAID TO 'TRY OUT'
Beginners & Novices are as welcome as highly skilled performers.
It's a fun night that is as encouraging and supportive as it is excellent.
Don't miss out!
Contact Tatyana soon to book a place. First in best dressed.
tatyana@fastmail.com.au
It's always a night of eclectic music, good fun and great comradery.
And now we get to eat and drink as well! How could it be more perfect…?
ALL LUKES members welcome
(It is a Tuesday night event but Mentone people welcome)
So put up your hand to do an act!
Or just come along and watch a night of great music with drink in hand.
OR
Take up Carolyn's generous offer of the GROUP SONG for anyone not already performing