Description: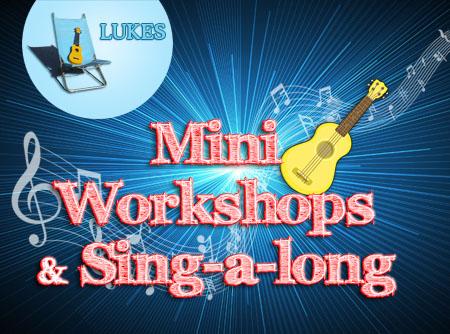 Mini-Workshops - Carrum (same program for May 10th & 17th)
7pm – 7.45pm: join the workshop of your choice as outlined below.
7.45 – 8pm: Chat Break
8pm – 9 pm: Full group Singalong using the Ukulele Club Book 1. (Songs from the whiteboard)
WORKSHOPS

Each workshop will work on one song to incorporate what they have learnt and to prepare to perform at the Open Mic on May 24th. Music will be on hand outs.
Beginners Leader: Michael Bell
Michael will help you with the basics like getting your fingers around some of those tricky chords & keeping a steady strumming rhythm. Here's your chance to ask those questions you might feel embarrassed to ask in the big group.
Rhythm & Strumming Leader: Sally Baker
Learn to read simple rhythms and incorporate them into your strumming patterns or finger picking.
Harmony Singing Leader: Shirley Biggs
For experienced harmony makers and beginners. Learn a simple method (single string harmony) to find a harmony and also practise keeping the melody strong against a harmony.
Transposing Leader: Marian De Souza
Revise the simple steps to transposition and also have all your questions answered about keys and their chord relationships.
Reading TABs Leader: Carolyn Coxhead
Unlock a whole new way of playing your ukulele.
Learn to read and play simple tabs. (that's playing single notes on the uke rather than chords.)
Learn to finger-pick melodies and strumming patterns.