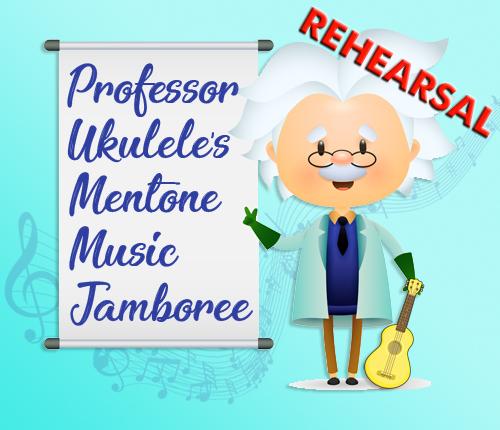 We've decided to be a bit fluid with this weeks' session as we'd like to encourage our members in the first half to work in groups or individually, to practise a song or songs that they can perform at Professor Ukulele's Mentone Music Jamboree on 13th May.
Bring along your song books or even the music sheet for a song you'd like to have a go at and we'll mentor you as an individual or as a group and help you prepare to peform.

Don't be afraid to ask someone to give you hand or even to join you to practise to perform. We are trying to help our members take the next step after our Preparation for Performance Workshop held on 8th April. and we endeavour to be as inclusive as possible. Give a new member a shout out and ask them to work with you. or even someone sitting on their own. That's how we all gained the courage to get up on stage and lead a song - others invited us to join them. We'll spread out around the Palermo Room in small groups.

Perhaps you have a song you've always wanted to learn but can't find the ukulele music for it. Mr Google has a plethora of songs in all different keys and in a range of levels of difficulty. We can help you arrange a song to your talents. Remember each song can be as simple or as complex as we need it to be - but the most important thing is to make it easy enough to be comfortable to have a go at it.

We have a list of excellent links to Ukulele Music websites on our club website - if you're in need of inspiration.

If you feel you need more time to rehearse, we'll continue after the mid-way break - if not we'll start on our Session 2 of the Greatest Hits Session as originally planned..
This night is all about our members and helping you prepare to perform the following week ~ if you feel you're ready to. If not work along with us anyway and see what happens. What have you got to lose?

GREATEST HITS SESSION 2 - in second half of night if you choose to!
The response of our Thursday afternnoon members to the call for their 3 favourite songs from the LUKES Songbooks 1, 2 and 3 was overwhelming so we will continue with the list of songs performed on 22nd April in the first sesssion.
The vibe of the first Greatest Hits session was phenomenal and the joy was palpable.
If you still have songs you'd like included in the list, please email Alison Davies on alison@daviesdirect.net
The song list of those songs still to be sung is attached.
More than one person can be on stage up on the microphones, so if you haven't yet let us know your favourite songs and/or would happily help out on stage, please email Alison ASAP on alison@daviesdirect.net
We encourage as many people as possible to have the opportunity to lead songs. This is your chance to sing your favourite songs!
You can arrive anytime from 3pm in order to set up for a prompt 3:45pm start time and a 5:45pm finish.
Everyone is welcome to stay for dinner afterwards - Thursday is Parma night at the RSL and there is a great selection of well priced Senior's Meals!
You can buy beverages at the bar and remember no hats to be worn in the RSL as a sign of respect for the fallen.