Description: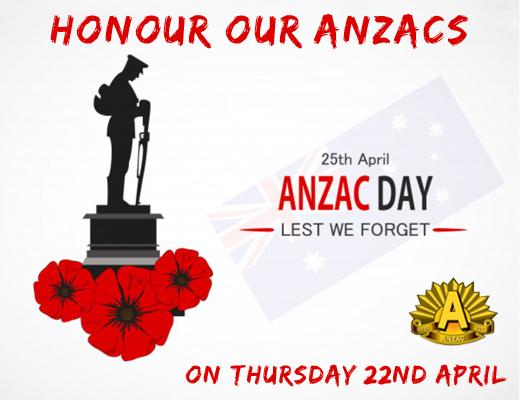 On 25th April we remember all Australians and New Zealanders who served and died in all wars, conflicts & peacekeeping operations and the contribution and suffering of all those who have served.
At LUKES we will honour all ANZACS on Thursday 22nd April.


We will sing a range of Australian songs. The majority will come from our LUKES Song books 1, 2 and 3 and there will be a few additional songs which we'll ask you to download and print. They are all located individually in the Members Only section of this website under Songs, in alphabetical order.
They will also be emailed to you.
Please let us know if you're interested in leading any of the songs on the preliminary song list or if you have any pertinent songs that you would like included on the night.
Email Alison on alison@daviesdirect.net
No hats may be worn at the RSL in honour of the fallen, but if you have relatives medals you'd like to wear, please do so.
If you would like to send a list of family members who lost their lives serving their country & details. We can honour them on your behalf on the night. Please send this information to Alison or Brad.