Description: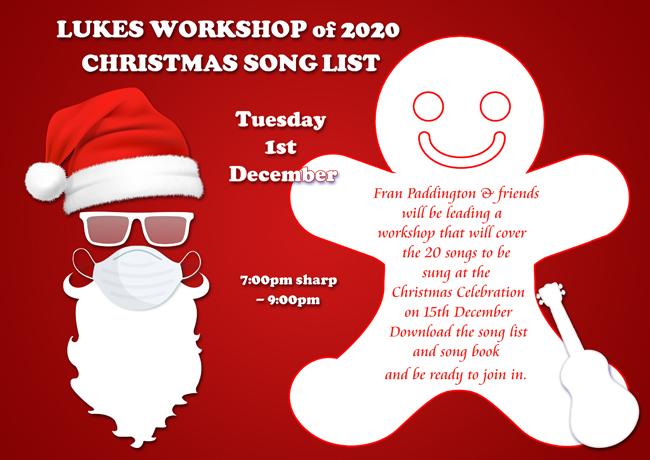 Hi All My Budding Christmas Carollers,
Christmas Songs:
We have experienced some great nights, with super performances from the gang, via zoom. The club has planned some really exciting evenings in the next few weeks to celebrate Christmas.
The final song list for the Christmas party has been prepared, and we're grateful to those who have volunteered to lead a song on the night. With as many people involved as possible, we will be seeing out the old year with style.
Many people are gathering in hubs or bubbles and they are all doing songs together.
Note the Full Compilation Book is the original LUKES Christmas Song Book containing all Christmas Songs. The Songbook for 2020 has taken 20 songs from this book and they are in one book for those who wish to print it or alternatively have it on their tablets, computers or devices.
I would love to create some excitement and build up to the night, this year especially, as things have been pretty tough. We are running a

WORKSHOP

on Tuesday 1st December to give everyone the chance to master the 20 songs on this year's Christmas Song List before we tackle them at the Christmas Celebration. Everyone will get to practise every song and any tricky parts or chords will be explained by the song leader. As we will have very few opportunities to sing or practise Christmas Songs and Carols this year - be sure to tune in on Zoom and get in to the Christmas spirit with all your friends at LUKES.

We have missed our usual get togethers and want to make the most of our Christmas party, so lets celebrate how lucky we are, and raise a glass together on both 1st December and the 15th.
Looking forward to seeing you all on the first day of December for our CHRISTMAS WORKSHOP.

Start practising now and Zoom login details will be sent to you on December 1st!
Fran
0432 243 917
fd.paddington@gmail.com