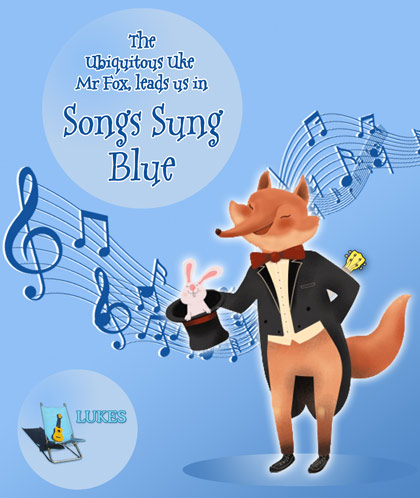 Les Fox who always leaves us with a sense of anticipation about what badge will be accompanying our chocolate, will do the same as he leads us in his first LUKES Session

"Songs Sung Blue."
A few hints as to what he may be drawing out of his top hat on Tuesday 3rd March:
You won't look out of place if you dress in Blue.
Join us for a night of Blue Songs punctuated by the inevitable Blue Badges, Blue Decor, Blue Jokes (not too rude!) and Blue Prizes.
We plan to project the Songs so you don't have to lug in a truckload of songbooks!

Download "The Songs Sung Blue song list" to get an idea of what we'll be singing.
Down load "The Songs Sung Blue song book" from the Members Only Music Library if you'd like to have a look at the songs and have a practise before the night - BUT THE MUSIC WILL BE PROJECTED ON THE NIGHT!

If you have a "Blue song" and you would like to get up and perform it that would be great ! Please let Les know, so he can sqeeze you in ! Call Les on 0407 958 005 or email him: fox_les@hotmail.com