PRESIDENT'S REPORT
Vale Tony
It was good to see such a strong turn out for Tony Brooker's funeral. It was a very emotional day for us. Tony's partner Cherry and his many friends organised a warm and fitting tribute to him. His friends were legion and a common refrain from people he has been helping out for a long time was "What are we going to do now that Tony is gone?" He is sadly missed.

Too much of a good thing?
Luke's goes from strength to strength. We had 58 people on the 25th February and 56 on 3rd March. We are a little concerned that we don't grow too much bigger.
Although we want to maintain our welcoming and friendly atmosphere, the terms of our agreement with Kingston Council are that the hall is limited to 60, so we are not actively recruiting new members at the moment.

Beginner's Classes.
We have completed 2 of our 6 planned sessions on Thursday evenings.
If you are quick, it's not too late to join this small group to learn the basics.
These classes aren't compulsory for newbies. You can still attend on a Tuesday evening with no experience. See the News & Events page of the website for more details.

LEGS
Thanks for those who have asked to be members of LEGS.
The dowloadable list of those who put their hand up is ⇒ LEGS 2020 Members

Free electrical tagging.
Electrical equipment used in our hall should be tagged.
Andrew has arranged to have this done at no cost to you on Tuesday 10th March. So bring along your amps and stuff.

New Leaders for Tuesday Nights
Tatyana will be approaching a few people to lead our Tuesday nights.
We like to vary our Tuesdays with different formats and song lists. We offer technical, vocal or instrumental support for those interested in leading Tuesdays. Our next free nights are 7th and 14th of April.
THINGS COMING UP:
Thursday 5th March -
Rehearsal for Argyle Chelsea
- 2pm practise at Peter Grigg's home
Thursday Night
5th March - Beginners 7 pm at Carrum - led by Mandy
Tuesday 10th March
- Peter Leads in the round – Using selection from books 1,2,3.
You are welcome to lead some of the selected songs.
⇒ View the Songlist
Thursday 12th March
- Peter leads Beginners
Tuesday 17th March
- Saint Patrick's Day with Don and Meredith
Thursday 19th March
- Committee Meeting
- Veronica leads Beginners
Tuesday 31st March - Alison to lead "Movin' & Shakin' to Movie Songs"
NOTE:
LUKES April Committee Meeting - Wed 15th April (not 16th )
Table of Contents
SONGS SUNG BLUE with The Ubiquitous Uke - Mr Fox
RECENT PHOTO GALLERIES ADDED
HAVE YOU REALLY EXPLORED THE LUKES WEBSITE?
SHIRLEY BIGGS WRITES ABOUT MEMBER SALLY BAKER
BEYOND LUKES
SONGS SUNG BLUE with The Ubiquitous Uke - Mr Fox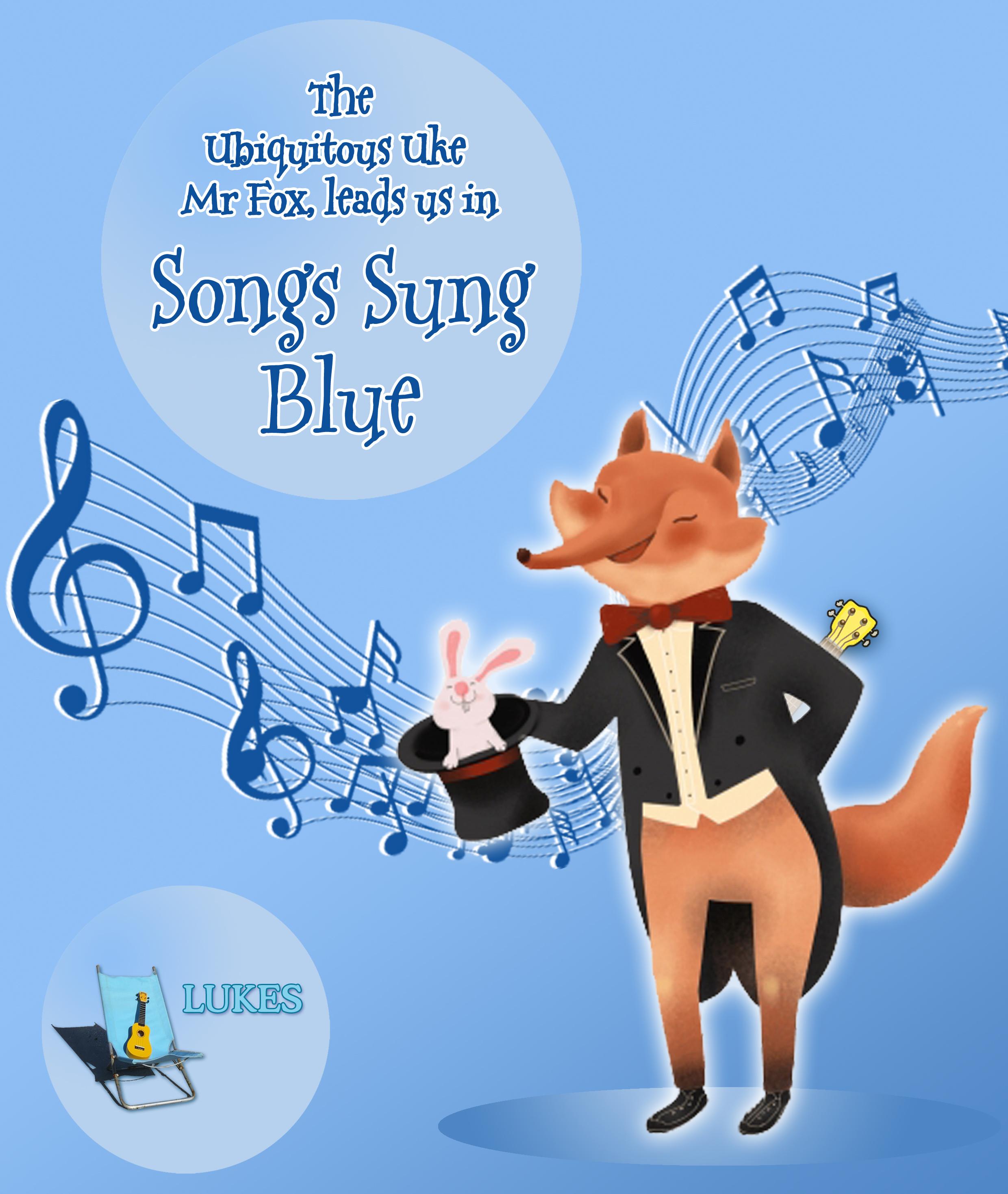 | | |
| --- | --- |
| Type of post: | Group news item |
| Sub-type: | No sub-type |
| Posted By: | Alison Davies |
| Status: | Current |
| Date Posted: | Thu, 5 Mar 2020 |
Les Fox who always leaves us with a sense of anticipation about what badge will be accompanying our chocolate, did the same as he led us in his first LUKES Session
"Songs Sung Blue"

on Tuesday 3rd March:

The majority of members were dressed in Blue and sang an eclectic choice of Blue Songs or songs featuring Blue. The singing was punctuated by the inevitable Blue Badges, Blue Decor, Blue Jokes (not too rude!) and Blue Prizes.

The joy in the room was infectious and everyone left with a spring in their step, a Blue Gift and definitely not in a Blue mood at all. Well done to Les for a wonderful night - you've set the bar really high.
---
| | |
| --- | --- |
| RECENT PHOTO GALLERIES ADDED | |
---
| | |
| --- | --- |
| HAVE YOU REALLY EXPLORED THE LUKES WEBSITE? | |
The LUKES website at www.longbeachukes.com.au was set up as the principle communication tool for members.
The CALENDAR will be kept up to date and you can click on the date of an event and as song lists and song books are produced by the event organiser, they too will be put up on the website. Due to copyright laws, our song books will only be available in the "MEMBERS" section under SONGS or LIBRARY.
We have a SUGGESTION BOX in the Members section. if you have an idea that you'd like the club and in particular the committee to address - that is the place to write your suggestion. It will go straight to the Secretary and forwarded to the relevant committee member to handle the suggestion. or put on the agenda for the next committee meeting.

There's also a TRADING POST section - thinking of upgrading your equipment? - then this may be the ideal place to advertise your old uke for new members who may be looking for something. Email Alison with a photograph and the details.
webmaster@longbeachukes.com.au

As we get around to it, photographs of events are put up under NEWS and you can check out the photographs of past events under the PHOTOS.

Tatyana has put up her chord diagrams under the TEACHING RESOURCES tab in the MEMBERS section. Any member can download them and they are a wonderful resource for any new, intermediate or even advanced uke player.

Don't forget to read the History of LUKES under the ABOUT tab - it has grown from very small beginnings to a wonderful eclectic mix of people and instruments in only 8 years. Thanks to our founder Michael Bell.
---
| | |
| --- | --- |
| SHIRLEY BIGGS WRITES ABOUT MEMBER SALLY BAKER | |
Most of us only know Sally as a dynamo of our ukulele club but her talents run far and wide. Here on their farm on the rugged Grand Ridge Road Sally can be seen hosting a gardening group and offering transport to weary walkers in her upmarket tractor: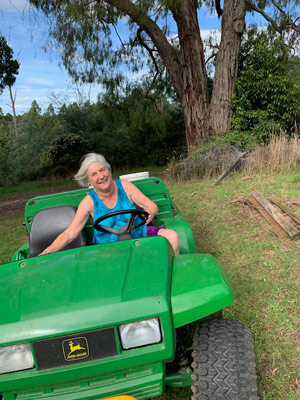 ---
Are members aware that we have a section under News & Events that covers a variety of other ukulele and music events being held around Melbourne and Victoria.
We have called it "Beyond LUKES"
https://www.longbeachukes.com.au/beyondlukes
If you have any events Beyond LUKES that you'd like us to record and think others might be interested in attending, please email the information to Alison:
webmaster@longbeachukes.com.au
---