Table of Contents
PRESIDENT'S REPORT - 30th SEPTEMBER
WELCOME
CELEBRATION OF MICHAEL BELL'S PRESIDENCY
LEGS GIGS
| | |
| --- | --- |
| PRESIDENT'S REPORT - 30th SEPTEMBER | |
We have had a very successful September with:
Fran and Mandy's Lovesongs

Try Out night with Tatyana

Footy songs with Tatyana

And "Peoples Choice Night" with Carolyn (see photo below).



Our performance group LEGS - led by Mandy had two great gigs:
We performed for a Vision Australia group at Frankston

We returned to Greenwood Manor at Dingley (where we had a huge band of 13)

Wednesday Ukulele
Over winter Don and Meredith ran a small successful Wednesday afternoon group at their place, for those who prefer to get together during the day.
Also on Wednesday afternoons our Secretary, Carolyn Coxhead runs a beginners class at Kingston U3A in Mordialloc. (They arecertainly better than beginners now!)
At Bayside U3A in Brighton our member; Paul Wadeson runs UKE3A on Wednesday afternoons for " those who have basic Ukulele skills". They will be performing in the city as a part of Seniors Week I believe.

Beginners Lessons
Paul Wadeson will also be running our beginners lessons at the Carrum Activity Hub on the first two of Thursday evenings of October at 7pm.

Better Sound
We are sounding better! Obviously we are good, but this was recently enhanced by purchasing three top spec microphones. Thanks for organising that Jonno.

Coming up
This Tuesday 1st October
I will be leading an "In The Round night", using "The Ukulele Club Songbook 1" aka Grey Book 1.
Helping me will be Rennie and Donella, Brad, Marielle, Paul W, Michael, Rick and Andrew.
Some of the songs we will be looking at are .....
P16 - All I Have To Do Is Dream
P30 - Bad Moon Rising
P42 - Blue Bayou
P276 - You're Sixteen
We should also have time for your choice of songs from this book.

Cup Day
Looking ahead to Cup Day we decided we will not close on this night.
We will do an Acoustic Night. We need a leader for this night. If you haven't lead a night before, that's ok we will support you.
Get back to me if you are interested 0425 718 382.

Keep strumming
Peter Grigg
President Lukes
---
The past two months or so have seen numerous activities at LUKES.
We've enjoyed:
A Family and Friends Sing-a-long at the Mentone RSL,
A celebration of the Fab Four at the Beatles Theme Night,
The AGM and celebration of the contribution of our inaugural founder and President Michael Bell
8 gigs from the LUKES Entertainment Group (LEGS) at a variety of nursing homes and events in the Bayside area from Mornington to Brighton
The King of Pop - Elvis - regaled by one and all at a Theme night along with the group preparations at a Hat Band Workshop Night,
A Singing the Blues Night organised by the Blues Sisters was a great hit
We enjoyed many other weekly celebrations of music including the much awaited launch of our Main Song Book 3 - Many thanks to Tatyana for her years of work on this excellent resource.
In The Rounds with themes such as Love Songs, Grey Book Choices, and People's Choices ably led by Peter, Veronica, Carolyn, Fran and Mandy
A Theme Night featuring Footy Songs and Their Original Source Songs led by Tatyana and well researched by Chris Trotter.
I recently read a quote on a card by the Australian artist Sue Janson:
"The tonic of laughter is a universally needed medicine, without it the joy of life is lost!"

We at LUKES certainly celebrate the joy of laughter along with our music and this newsletter reflects our joy of life as a group.
One of our members who is a great example of sharing this tonic of laughter is our humorous, Mr Fox. Les not only captivates us with his medical knowledge and experiences by way of quirky songs at Open Mic Nights, but delights us on a regular basis with themed posters and his badges with chocolates attached. Les' badges celebrate our theme nights or a special day that happens to fall on our LUKES nights. Thank you for the joy you spread Les and for your generosity.

Thank you also to those who have contributed along the way not only in organising the wonderful variety of events that we participate in at LUKES but also those who have sent me photographs and write ups.

Alison Davies
Newsletter Editor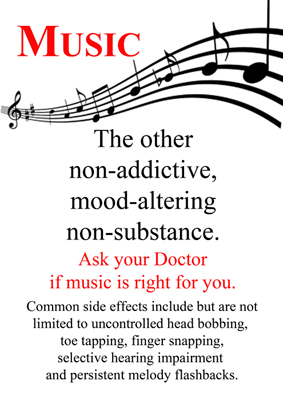 ---
| | |
| --- | --- |
| CELEBRATION OF MICHAEL BELL'S PRESIDENCY | |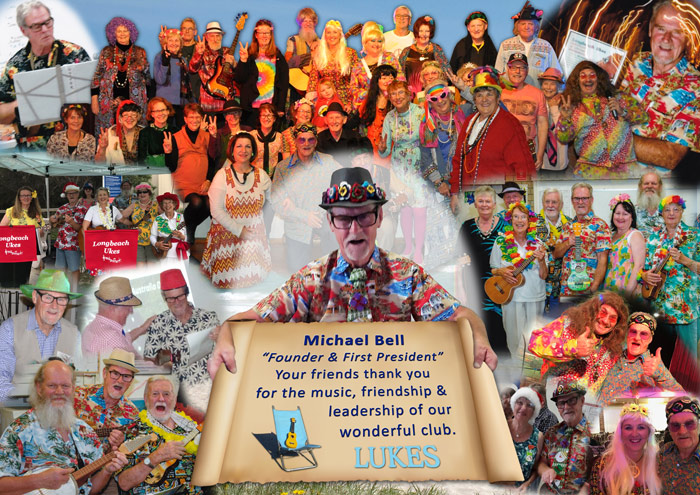 Without the vision and leadership of this humble yet extraordinary man, this wondeful club that we are all so priviledged to enjoy week in week out would not exist. As Michael stepped down from his role as President of LUKES at the recent AGM, we all took the opportunity to show our thanks - some by singing an homage or two, others by photo presentations but all of us by cheering on his hard work and promising to keep his legacy as lively and joyful as ever going forwards.
Our heartfelt thanks Michael from all of your friends at LUKES.

Our new President Peter Grigg (LHS below) takes over the reins of LUKES: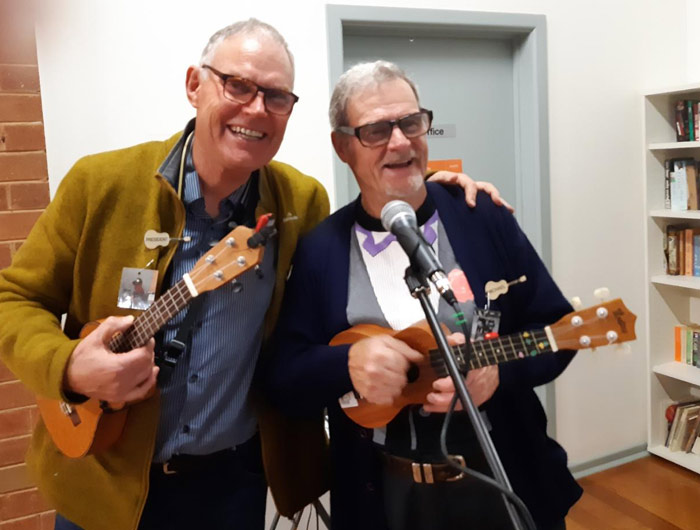 ---
The LUKES Entertainment Group otherwise known as LEGS, has been busy with a variety of Gigs over the last couple of months.
We have entertained seniors at the Ti-Tree Club that meets at the Mentone RSL, Montclaire Aged Care in Brighton, Cheltenham Manor, Greenwood Manor Dingley HappyHour and two Vision Impaired gatherings organised by Vision Australia at: Ebdale Community Hub Frankston and the Hallam Senior Citizens Centre.
Rehearsals for these events are always lively gatherings and the joy we impart to the audiences at these gigs make the preparatory effort worthwhile.
Congratulations and thanks to all the LEGS co-ordinators: Peter, Fran and Mandy and the LEGS participants - the standard keeps getting better as our confidence grows and our skills are honed!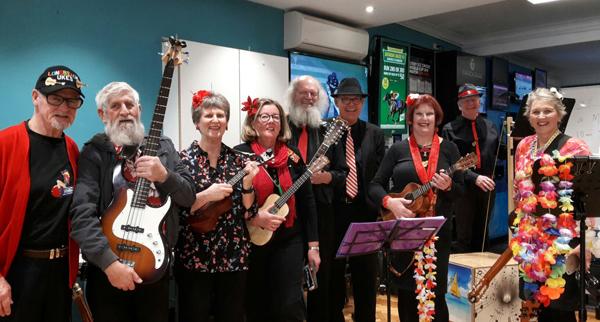 LEGS group at the Ti-Tree Club Mentone in July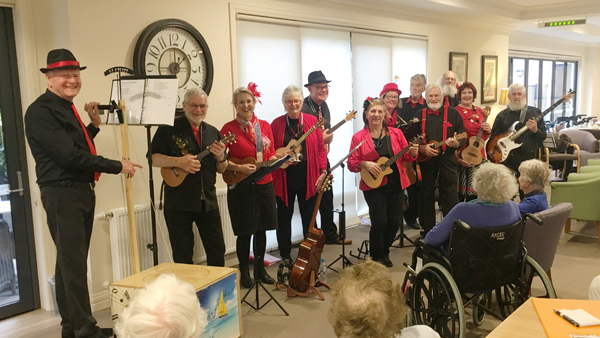 LEGS performing at Cheltenham Manor August 2019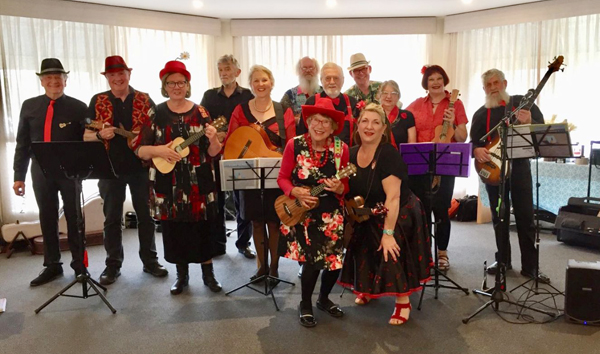 LEGS performing at Greenwood Manor September 2019
---